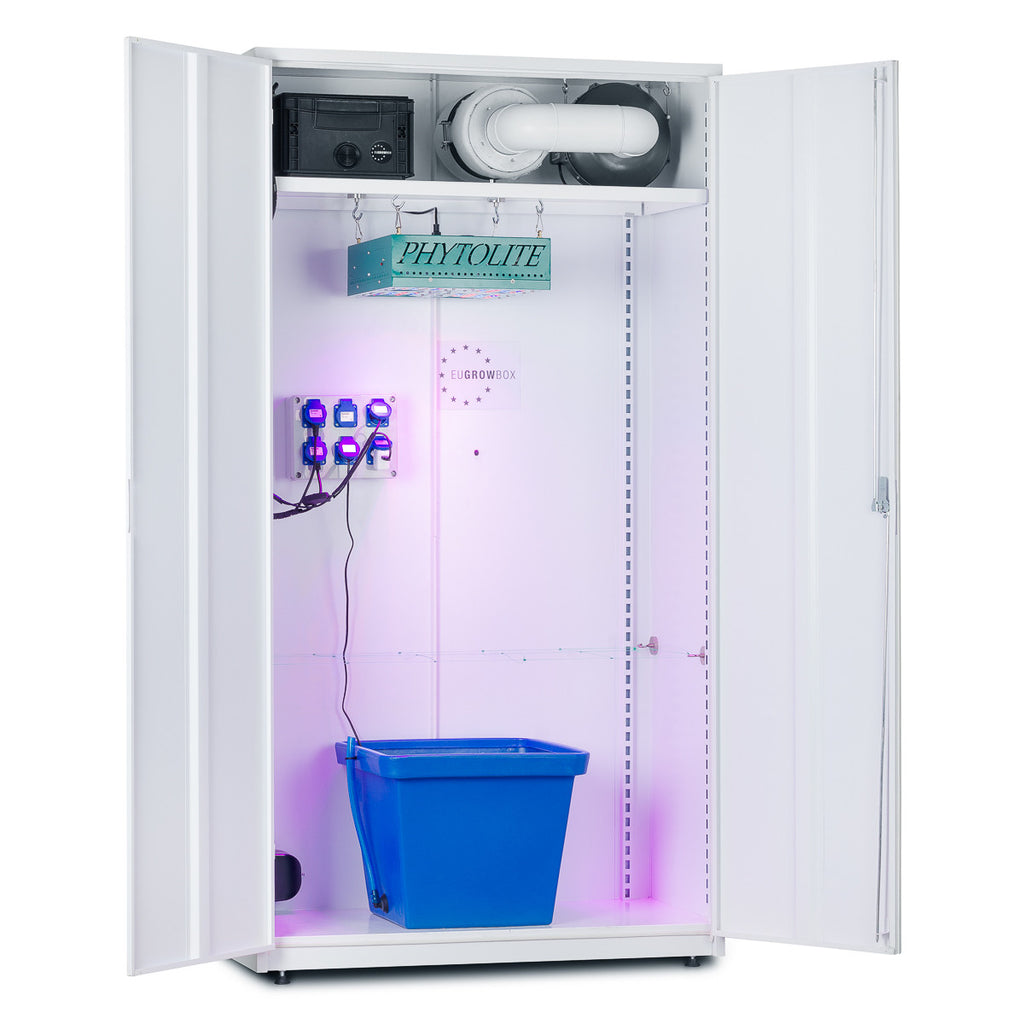 The ultimate all-in-one grow box for discreet growing.
USER-FRIENDLY & EASY
The aim of our extensive research was to make indoor growing as easy as possible, not rocket science. Introducing the EU GROW BOX ProGreZX - our conclusion.
AN ADVANCED PRODUCT FOR EVERYONE
Since 2014, we are enthusiastically building this ultimate all-in-one grow box for discreet growing. Both professional growers and beginners can now enjoy a first-class experience under laboratory conditions in no time.
PREMIUM WORKMANSHIP & PLUG-AND-PLAY
Game changer. The installation of a grow box doesn't have to be long and complicated! The EU GROW BOX ProGreZX is installed in a few seconds. No more dangerous electrical installations, no more drilling, no more tiresome assembling and hanging of bulky ventilation components. Can't stand the sight of ventilation ducts? Here we don't use ducts. Instead, we manufacture robust, made-to-fit pipes.
THE WHOLE PACKAGE, ALL INCLUSIVE
Stay cool, we thought of every single component necessary. Activate the EU GROW BOX ProGreZX, add fresh water, throw in some legal plant seeds and have fun! You'll love it. 100% satisfaction guarantee.
PRODUCE ENORMOUS JUNGLE YIELDS
The EU GROW BOX ProGreZX offers space - a lot of space! Seriously. We are talking about monster plants, more than 1 meter tall. An integrated, removable grow net boosts growth and prevents damage to your precious herbs. This way you'll get instant, superb results!
METAL FOR HEAVY & DURABLE USAGE
As opposed to our competition, the tough body of the EU GROW BOX ProGreZX doesn't contain any ordinary cheap material. It's made out of remarkably strong, pulverized metal. Low-cost wood, chipboard or plastics are definitely not sufficient for our esteemed customers. Don't settle for less, settle for the best!
MONEY-SAVING, NEXT-GEN GROW LIGHT
The EU GROW BOX ProGreZX is powered by Phytolite GX Full Cycle. A state-of-the-art LED grow light engineered in Switzerland. The overall power consumption is being substantially reduced and there is virtually no unnecessary heat. Traditional HID lights use tremendous amounts of electricity and may pose an increased risk of fire. The plant's full cycle is covered, while a supplied timer controls the correct number of active hours. Optionally, you can order a second identical LED grow light and double your juice using daisy chaining ports.
AEROPONICS: ADIOS STICKY, SMELLY SOIL!
The EU GROW BOX ProGreZX is equipped with a revolutionary aero-hydroponics system called the Aerofarm. Made by General Hydroponics of France, this automatic watering system grows delicious herbs without harmful bugs and parasites. Aeroponics is defined as the process of growing plants in an air or mist environment, without the use of soil or an aggregate medium. This grow method has been proven by research to give 30% more yield than regular soil. NASA is one of the biggest supporter of aeroponics since the 1990s.
SAVE TIME & NERVES
Indoor growing can be an overwhelmingly time-consuming and confusing operation. However, the EU GROW BOX ProGreZX keeps everything organised and smooth. The overall idea was to create a grow box that avoids unnecessary, stressful situations. The user should only concentrate on the pleasure of growing.
CLEANING & MAINTENANCE IS EFFORTLESS
Hygienic, sterile grow environment is vital for a five-star end product. Easy-to-clean paint finish makes cleaning the EU GROW BOX ProGreZX a quick treat. Each and every component is easily accessible and replaceable.
SECURITY - FOR YOUR PEACE OF MIND
The EU GROW BOX ProGreZX is an authentic grow vault. A sturdy lock protects your plants from children, pets or unexpected spying visitors. Don't forget your keys and just relax!
GROWING WITHOUT ANYONE KNOWING
Your indoor grow is your business. The EU GROW BOX ProGreZX cannot be recognized due to its stealthy appearance and silent server-like sound.
SMELL-PROOF AND VENTILATED
A complete ventilation system from the Czech company Prima Klima provides optimal airflow for your plant's growth. An easily replaceable industrial carbon filter removes unwanted aromas. The construction of the EU GROW BOX ProGreZX causes negative air pressure. This isolation technique is used by hospitals in order to prevent cross-contamination from room to room.
LIGHT-TIGHT
The EU GROW BOX ProGreZX was designed to effectively decrease undesirable light leaks inside and outside the grow box. Otherwise you could disturb the flowering period of your plants. Are you a small apartment owner? From now on you can have your own professional grow box!
A TRULY LUXURIOUS GROW BOX
Contrary to unattractive grow tents, our grow cabinet looks great everywhere. It's manufactured directly in our Bratislava factory. Plus an exclusive, shiny metal handle and designer EU GROW BOX key chain come standard. The EU GROW BOX ProGreZX will leave you breathless!
XXL SIZE, SCRATCH-SAFE
If you're looking for extreme harvests, overpriced micro grow boxes aren't the ideal choice. You should get a decent-sized grow cabinet like ours. Although the EU GROW BOX ProGreZX is huge, its mountable metal legs with plastic bases won't scratch floors and allow comfortable movement of the grow box.
UNLIMITED ADD-ONS & GROW METHODS
Supplementary electrical sockets enable you to plug in a webcam or any other electrical appliance imaginable. You can dry your harvest inside the grow box, connect a heater, dehumidifier, or experiment by transforming the EU GROW BOX ProGreZX into hydro, coco or good old organic soiI.
KEEP YOUR EQUIPMENT NEAT
Grow accessories and nutrients can be stored in the all-black bonus storage box. Accessing your stuff is straightforward - just slide the storage box conveniently from the upper compartment of the grow box.
AN INVESTMENT THAT LASTS A LIFETIME
We are proud to sell a product of the highest quality. With its low operational costs and massive harvests, the EU GROW BOX ProGreZX will pay for itself in a very short time.
Handmade with love in the heart of Europe - Bratislava, Slovakia.
Free nutrient kit and pH management pack.
EU GROW BOX ProGreZX has a 2 year warranty.
Dimensions (height x width x depth): 1900 x 1020 x 500 millimeters.
This product uses a voltage of 220-240 V and its plug is compatible with EU and UK electrical sockets. Please, be advised that our warranty currently does not cover the use with a voltage of 110-127 V.
This product uses magnets. If you have a pacemaker or another implanted device, contact your physician or the manufacturer of the implanted device prior to use.
Individually manufactured for best quality, the expedition may take up to 8 weeks.
100% discreetly packed and shipped via courier, or free pickup at our headquarters.